Sustainability for Turkven

The private equity industry has an important responsibility to promote higher standards in environmental, social and governance (ESG) practices across countries and sectors.
At Turkven, we have integrated careful due diligence and responsible management of ESG issues in our key investment and portfolio monitoring processes.
We are committed to helping our investment funds make responsible investments and influence corporate behaviour to achieve improved ESG performance.
We believe that best practice ESG management not only mitigates risk and enables sustainability, but also enhances the long-term value of our businesses.
Promoting Women
One of the most significant driving forces of economic and social development for countries is the size and quality of human capital.
We believe that increasing the participation of women in the workforce is a critical step in a country's development and prosperity.
In Turkey, thanks to the steps taken to increase participation of women in workforce, the employment rate of women has risen to
34%
in 2017 up from
24%
in 2007.
We support the increasing workforce participation of women across our portfolio companies:
Of the

63,000 employees

in our portfolio,

46% are women.



Of all the CXO's (CEO direct-reports), 24% are women.


Of all the directors at the boards of our portfolio companies, 13% are women.
Annual Sustainability Report
We monitor ESG issues across our business and produce annual ESG reports.
We would be happy to provide our investors with our latest report upon request.
Please kindly contact
esg@turkven.com
to request a copy.
Operating Principles for Impact Management
We are a signatory to the Operating Principles for Impact Management, whose initial host of the Secretariat is IFC.
Please click this link to download our report.
Principles of Responsible Investment (PRI)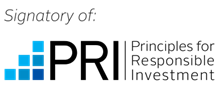 We are proud to announce that we became a signatory to the Principles of Responsible Investment (PRI) as of April, 2022.
Sustainability Efforts at Our Portfolio